Round 3 of Kirwan Novice/B League


And then there were two. Two teams with 3 wins from 3 games played that is and they both continue to be in 1
st
and 2
nd
place in the league after they had comprehensive wins in Round 3. Donabate had the best result of all when beating Whitehall by 19.79 VP's to 0.21 VP's. Victory was just over 1 VP ahead of Iona before they played each other and it looked like it would be a very close game. But it was not to be. Fiona Whelan's team established a commanding lead in the first half and didn't let up in the 2
nd
half winning the match by 18.9 VP's to 1.1 VP's.
And then there were another two. The two Broadmeadow teams that is that are lying in 3
rd
and 4
th
position. However, they both had different experiences in Round 3. Clare O'Neill's Broadmeadow Team just retained 3
rd
place even though they lost to Mary Hynes's St Anthony's Team by 6.59 VP's to 13.41 VP's. They are less than 1 VP ahead of Liz Butler's Broadmeadow Team who defeated St Gabriel's by 15.24 VP's to 4.76 VP's. Clare didn't play in her team, so maybe they missed her guiding hand. Both the Broadmeadow teams are in the running to be the best Novice team, so we will watch this rivalry with interest as the league progresses.
And then there were even another two. The two games with the tightest scores that is. Mary Hyne's St Anthony's Team defeated Malahide by 11.46 VP's to 8.54 VP's. They were separated only by the result of the last board of the game.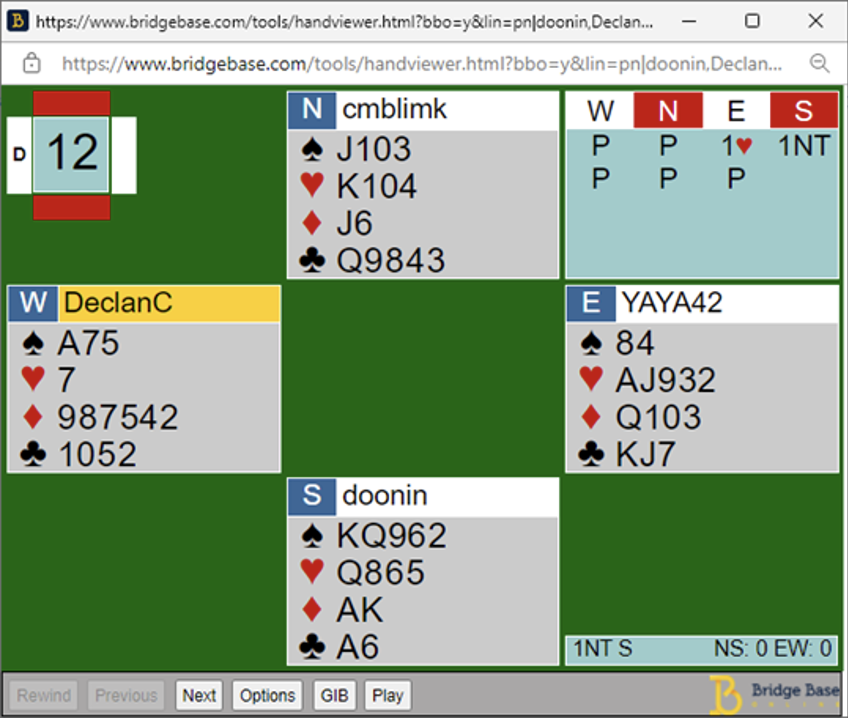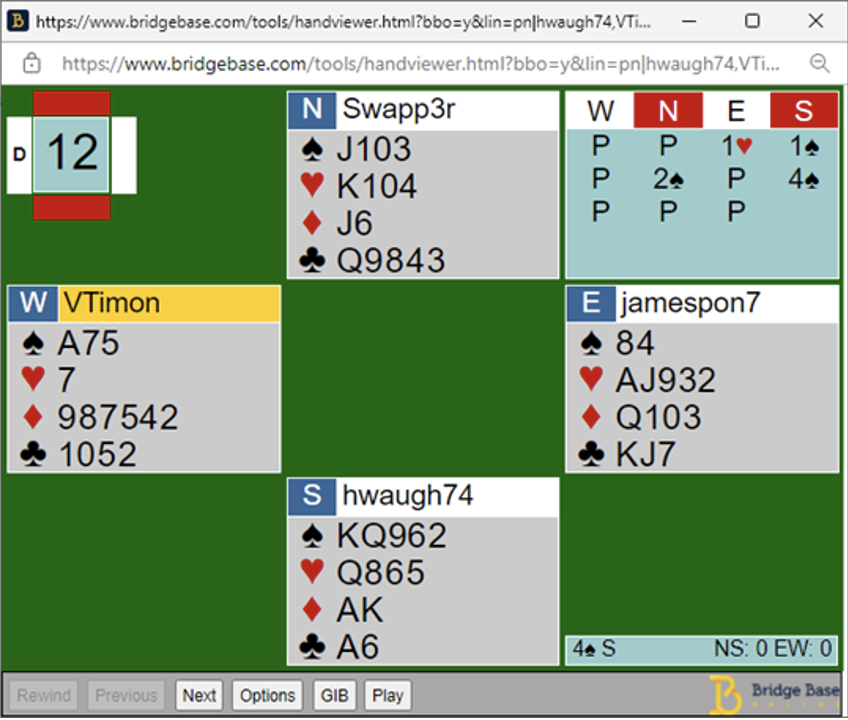 On one table, Malahide's Paul O'Brien in East opened 1 Heart and St Anthony's Una O'Byrne sitting South with 5 Spades, 4 Hearts and 18 points overcalled 1 No Trump. Malahide's Declan Cahill passed. St Anthony's Kathleen Briody has 7 points and does not expect Una to have 18 points, so she also passed, and the contract makes +1.
Meanwhile at the other table, St Anthony's Mary Byrne opened 1 Heart just like Paul did. Helen Waugh, who is sitting south bids 1 Spade rather than 1 No Trump. Vanessa Timon passed and then Simon Keane bid 2 Spades in support of Helen's overcall. Helen thought all her Xmas's had come and jumped to 4 Spades. Unfortunately for Malahide, the contract went down one resulting in a 6 IMP swing to St Anthony's which was the difference between the two teams at the end of the day. This board also resulted in Simon's Malahide team, who had been 1VP ahead of Vanessa's St Anthony's team, swapping 5
th
and 6
th
place, with Vanessa's team now 2VP's ahead. I think this was really hard luck on Malahide but is a great example of the beauty of team bridge.
The other game between Sportslink and Foxhall was even tighter, with 1 IMP separating the two teams after 24 boards. This 1 IMP margin gave Sportslink a 10.25 VP's to 9.75 VP's win. The last board played an important role here as well. Sportslink would have won by 9 IMPS if they had not allowed Foxhall to claw back 8 IMPS in this last board.
Round 4 is scheduled for 3
rd
to the 16
th
January. Have a great Xmas and New Year and we will "see" you all then.