Round 4 of Kirwan Novice/B League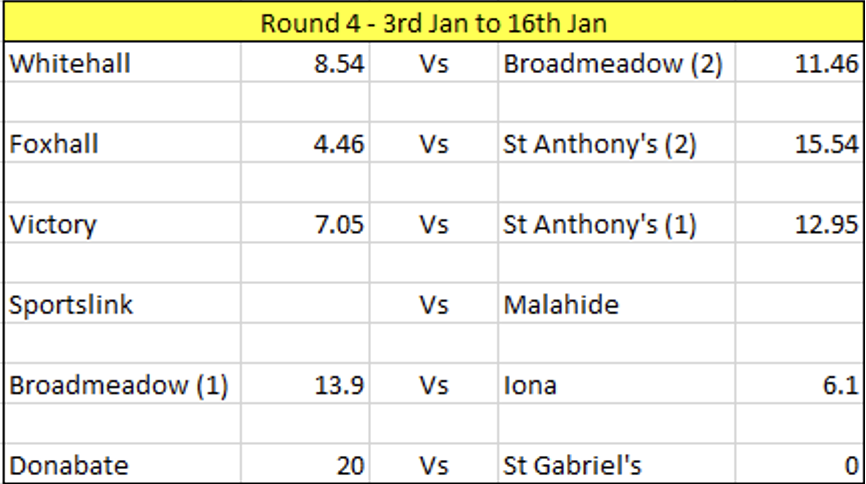 The Malahide/Sportslink match from Round 4 is outstanding, but as they have now both played their Round 5 match, I decided that it was time to give you your round 4 update. (excluding their round 5 matches)
There appears to be no stopping Doris Bruederlin's Donabate team as they completed their 4
th
win in a row, this time against St Gabriel's by a 20/0 Victory Point margin, leaving them well in front of all the other teams. This crowned off a great week for Doris and her partner Jane Brennan who were 2
nd
in the McLoughlin Cup on Saturday.
The other 4 matches had one thing in common – the team that was leading after the 1
st
session lost the match. The biggest comeback was in the Foxhall/St Anthony's (Mary Hynes) match. Foxhall won the 1
st
session by a 16 IMP margin, but there must have been something in St Anthony's tea at half time as they won the 2
nd
session by 44 IMPs resulting in a 15.54 to 4.46 win.
The tightest match of the round was that between Clare O'Neill's Broadmeadow Team and Whitehall. Whitehall were ahead by 9 IMPs after the 1
st
session. Going into the last board of the 2
nd
session, the teams were level (although they did not know it). You can see what happened below. On Table 1, Noreen Keane opened 1NT, Jerry MacDonough bid 2 Diamonds (Transfer to Hearts), but Noreen decided not to accept the transfer because of her diamond holding. This left Jerry playing in 2 diamonds going down 1. On Table 2, Alex Reid playing south, opened 1NT and Elizabeth Reynolds playing North bid 2 diamonds – all the same so far. Alex bid 2 hearts to complete the transfer and made the contract + 1, a swing of 6 IMP's to Broadmeadow and victory as well by 11.54 to 8.46.


In the Victory/St Anthony (Vanessa Timon) match, Victory looked set for their 4
th
win in a row as they led the match by 11 IMP's after the 1
st
session. But that famous St Anthony's tea was dished out again at half time with St Anthony's winning the 2
nd
session by 24 IMP's and winning the overall match by 12.95/7.05
In the last match of the round, Liz Butler's (who was not playing herself) Broadmeadow team, must have got some of the St Anthony's tea as they overcame a 1
st
session deficit of 5 IMP's in their match against Iona. They won the 2
nd
session by 23 IMP's giving them a 13.9/6.1 win.
The top 5 places in the league remain unchanged from round 3. The main mover in the round was Vanessa Timon's St Anthony's team who have gone from 8
th
to 6
th
place.
We have two matches completed in Round 5 and the rest are scheduled to be completed by 30
th
January at which point, you will get your next update.