Round 8 Update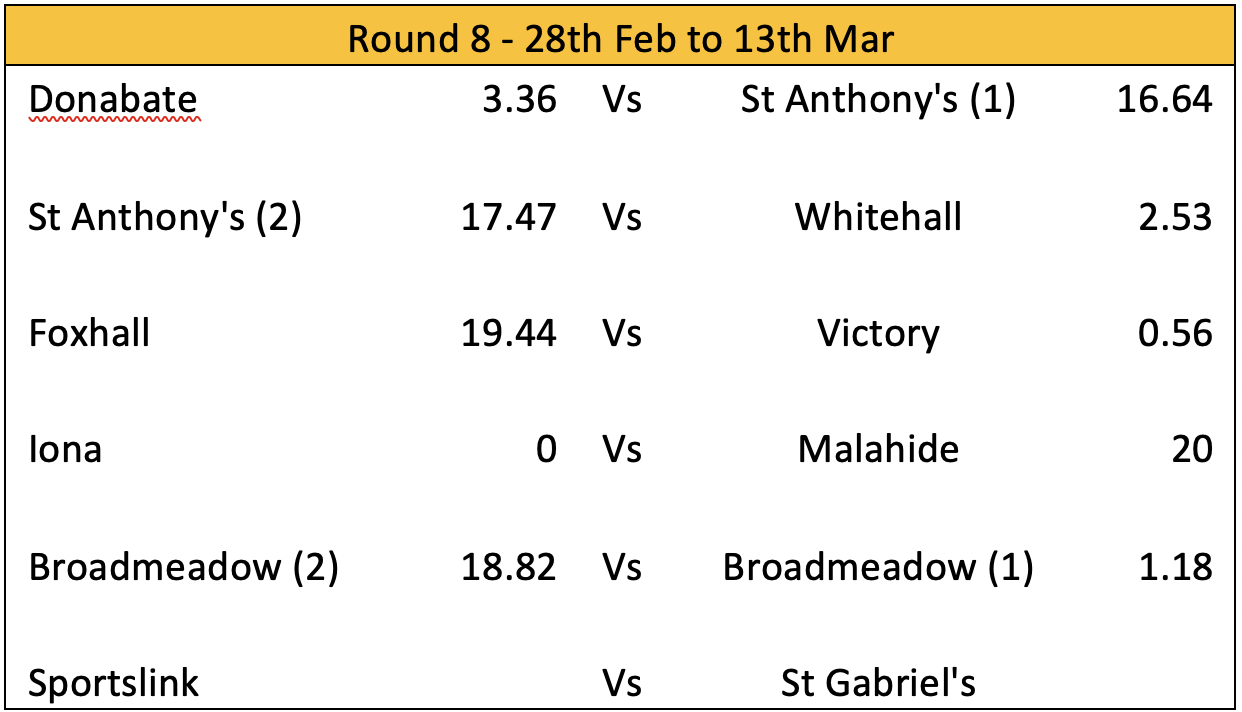 What an interesting round this has been.

It's tough at the top
Our two leading teams found this round quite challenging as they both suffered their second defeat of the League. These results have really opened up the league, with the top 6 teams all within a shout of winning.
The big surprise was Foxhall's win over Victory by 19.44 to 0.56 VP's. This was Foxhall's third win in their last 4 matches, so maybe it wasn't such a surprise and they really are motoring now. As a result, Victory have dropped from 2
nd
place to 6
th
place.
Vanessa Timon's St Anthony's team bounced back from their local derby defeat in Round 6 to come out on top in their match against league leaders Donabate by a margin 16.64 to 3.36 VPs. This leaves Donabate still on top of the league, but it is getting much tighter there.

Malahide score double top
Malahide introduced a new player to their team, Geraldine Whelan. She must have been responsible for putting something in their cornflakes as over a three-day period they had two 20 VPs to nil wins. The first one was their outstanding round 7 match against St Gabriel's and the second one was their round 8 match against Iona. In fact, it was their third such victory in a row and catapults them from 7
th
to 3
rd
place

The Broadmeadow Derby
This sounds more like a horse race rather than a bridge match. And if we are to continue the horse racing parlance, Clare O' Neill's team of herself, Orla Duffy, Elizabeth Reynolds and Alex Reid, won at a canter when defeating Liz Butler's team of herself, Sylvia Kennedy and Rosemary and Ann Leonard. There was no need even for a steward's inquiry as the final margin was 18.82 VPs to 1.18. This result combined with Victory's defeat means that Clare's team are now in 2
nd
place and breathing down the neck of Donabate (more horsey parlance). They are both due to meet each other in round 9. Watch this space!!!

The team with the best record in the league
Mary Hynes's St Anthony's team made it seven wins out of eight games when they defeated Whitehall by 17.47 VPs to 2.53. You would think with such a record, that they would be sitting pretty at the top of the league. Unfortunately for them they have had some very close and exciting games, which has meant they stay in 5
th
place. However they have reduced the margin between themselves and the other St Anthony's team who are fourth place, to just over 1 VP. The rivalry continues!!

The Round 8 match between Sportslink and St Gabriel's is still outstanding. Hopefully it will be complete by the Round 9 is finished and I will be able update you.
We have three rounds left and it is still all to play for. The very best of luck to all the teams and keep sending in those results.