Final Update

In the last update, I told you that there were 6 teams with a shot of winning the overall league with Clare O'Neill's Broadmeadows Team in pole position. Before the ink was hardly dry on that report (I was not using a pen, but you know what I mean), Clare's team put down an immediate marker when they defeated Foxhall by 15.69 to 4.31 VP's, giving them a final total of 154.51 VP's. This only left Doris Bruederlin's Donabate team, who had been in front for most of the league and Mary Hynes's St Anthony's team in with a chance of winning the overall league.
While Mary's team had an excellent win in their round 11 match against Victory by 14.76 to 5.24 VP's, this meant that no matter how they did in their outstanding round 9 match against St Gabriel's, they would not be able to catch Clare's team.
That just left Donabate between Clare's team and the overall league win. Donabate were to face their neighbours Malahide in their final match. First up for Simon Keane's Malahide though was their outstanding match from round 10 against Liz Butler's Broadmeadows team which Malahide duly won by 18.47 to 1.53 VP's. When it came to the match with Donabate, Simon's team continued their really good form and defeated Donabate by 19.44 to 0.56 VP's, leaving Clare's team as the overall league winners and the winners of the Kirwan League Novice Cup.
As you know we decided to have one league for Novices and Inter B's with four Novice Teams and eight Inter B teams. So, with Clare's Broadmeadows team having wrapped up the overall league and Kirwan League Novice Cup, that still left the Kirwan League Inter B Cup to be decided upon. Malahide had now finished all their matches and were sitting on 145.94 VP's, with the two St Anthony's teams clipping at their heels, each with one match to play against St Gabriel's who now found themselves in the position of deciding who would win the Kirwan League Inter B Cup. While Vanessa Timon's team won their match by 17.13 to 2.87 VP's, this only left them with a total of 142.47 VP's. So, it was all down to the last match between Mary Hynes's St Anthony's team and Eileen Smyth's St Gabriel's team. Mary's team held their nerve and defeated St Gabriel's by 15.83 to 4.17 VP's leaving them on 147.97 VP's and just pipping Malahide for the Kirwan League Inter B Cup. This is nothing more than Mary's team deserved as they won 10 of their 11 matches making them very worthy winners of the cup.
In the other round 11 matches Jerry McDonogh's Whitehall team had their 2
nd
win of the league when defeating Iona in a very tight game by 11.9 to 8.1 VP's and Liz Butler's team made it a one two in the Novice competition for Broadmeadows when they defeated Garvan O'Keeffe's Sportslink team by 16.38 to 6.32 VP's
If you didn't get all the that, the round 11 results were: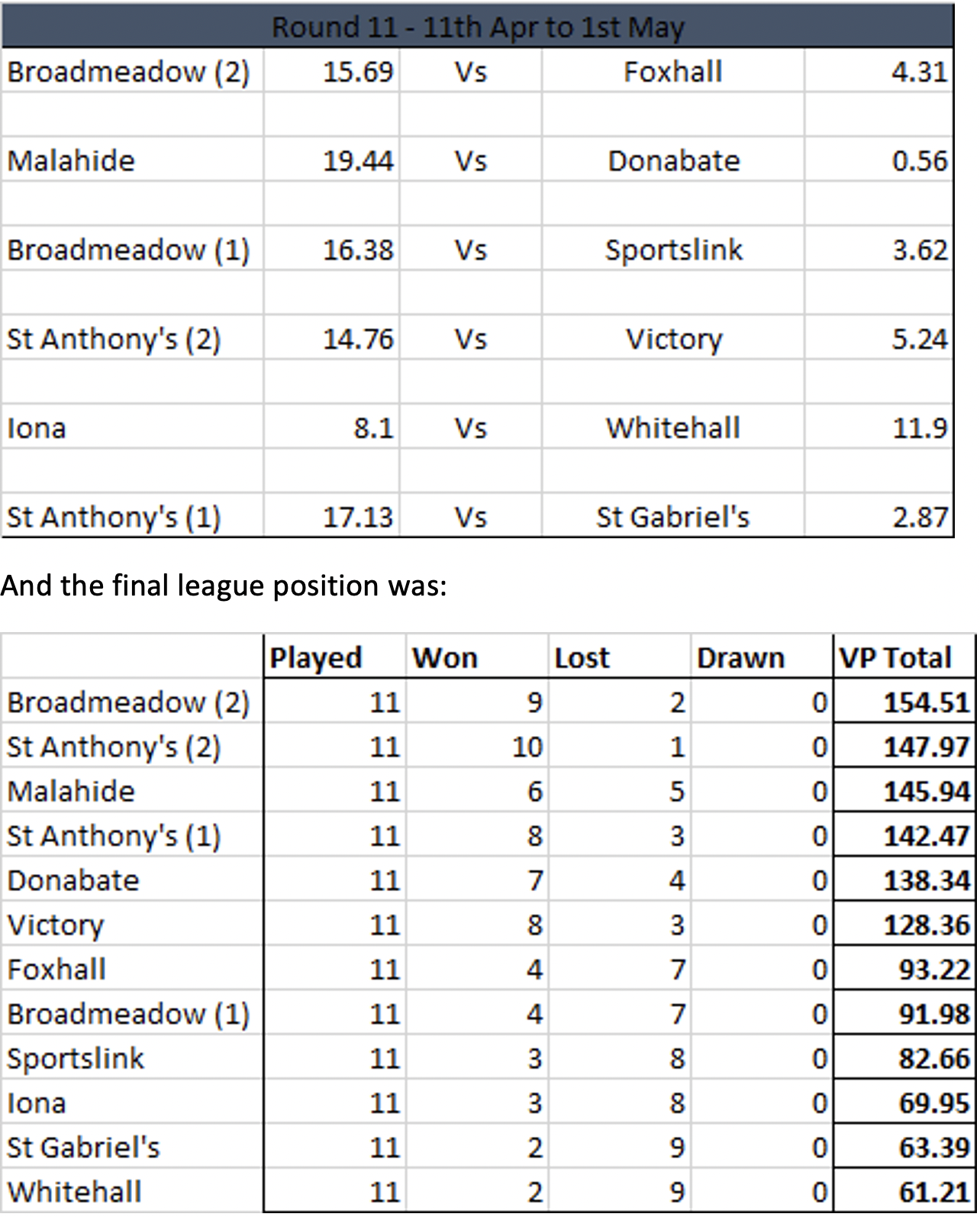 Congratulations to the winners of the Kirwan League Novice Cup and overall winners of our league – the Broadmeadows team of Clare O'Neill, Orla Duffy, Elizabeth Reynolds, Alex Reid, Niall Duffy and Margaret Lyons and congratulations to the winners of the Kirwan League Inter B Cup and runners up of our league – the St Anthony's team of Mary Hynes, Peadar Buckley, Orla Murnane, Ray Wall, Frances Ryan and Deirdre Diamond.
Don't forget to put the 21
st
May into your diaries as we plan to have a gala online team match for all our Kirwan League teams. If you have subs that would like to play, let me know and I will match them up with subs from another team for you.
Thank you all for taking part and making my job a very easy and enjoyable one. I hope you too have all enjoyed this great competition and playing it in an online format for the 1
st
time.

THE END