Thursday 31
st
December 2015


The DNR Committee was saddened to learn of the death on Christmas day of Jim Reid, husband of Mary Reid, County Development Officer. We offer our deepest condolences to Mary and to her family at this sad time.

Tuesday 13
th
October 2015.


We on the DNR Committee offer our deepest condolences to Martin McMahon, DNR President on the recent death, following a short illness, of his father Andrew. Ar dheis Dé go raibh a hanam.


Monday 28
th
September 2015.


Congratulations to the following prize-winners in the 2015 Duais an Uachtaran;


David Synnott & Hugh Gormally - Best Regional Master

Catherine Deegan & Nora Weafer - Best Intermediate A2
Friday
18
th
September 2015.

DNR Committee is saddened to learn of the death of Margaret Kelly of Naul Bridge Club.
Margaret was County Development Officer for the Fingal area of the Region from 2008 to 2010. She was a pleasure to deal with, she enjoyed her Bridge and was keen to spread that joy. The DNR Committee wishes to offer their condolences to Margaret's family.

Monday 15
th
June 2015.


The AGM of Dublin North Region took place last Friday. To view a list of the Regional Officers for 2015-16,
click here
.


Monday 25
th
May 2015.


Congratulations to the following Dublin North Region members who have been upgraded during the current season:

Upgraded to A2

Breda McPhillips
Arthur McGrail


Upgraded to A1

Marie Dalton
Sean Whelan


Upgraded to Regional Master

Con Doherty
Mary Linehan
Mary Reid
Frances Ronan

Sunday 29
th
March 2015.


Congratulations to all who participated in this years gathering. This is an annual event at which bridge teachers from the region introduce their newest graduates to the world of open competitive bridge. For photos of the event, and all the winners,
click here
.


Tuesday 24
th
March 2015.


Congratulations to Mary Deane & Jeanne Colvin on winning the 3
rd
Session in the Civil Service Cup.


Thursday 19
th
March 2015.


A Dublin Summer Bridge Congress will take place from Friday 3
rd
July to Sunday 5
th
July in City West Hotel. Click
here
for details.


Tuesday 27
th
January 2015.


A number of members of DNR were in action over the weekend in the National Teams and Pairs Competitions. Special congratulations to Eileen McCann, Mary Kelly Rogers, Ann Fitzpatrick & Hilary Ferguson who were overall winners in the National Ladies Teams Competition. They are pictured below with CBAI President Fearghal O'Boyle.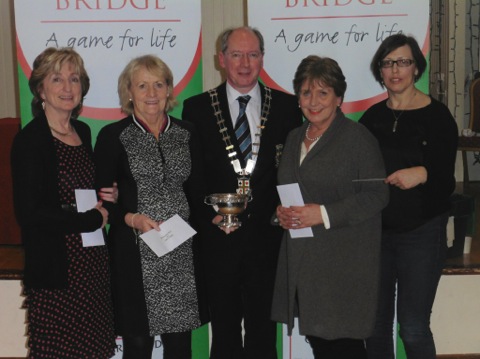 Other notable DNR results included;

National Mens Teams Best Area Master Prize: Aidan Synnott, Tom Heary, Richard Trehy & John Moyles.

National Ladies Teams Best Intermediate A Prize: Lilian Foley, Rosemary Matthews, Marie Cronin & Nora Potter.

National Mens Pairs Best Intermediate A Prize: Martin Walsh & Jimmy Given.

National Ladies Pairs Best Intermediate A Prize: Catherine Quinn & Nora Wayte.



Tuesday 20
th
January 2015.


Congratulations to all who took part in the McLoughlin Trophy. This pairs competition, confined to Inter B players and Novice players, took place in Malahide Bridge Club on Saturday last. 24 pairs from 7 different clubs in the region took part. Malahide Regional, Foxhall, Glasnevin, Lusk, St.Anthony's, Teacher's Club and Swords were represented. All participants deserve to be congratulated for making it such an enjoyable event. A big thank you as always to Malahide Bridge Club for providing the venue and to our tournament director Anne Doyle for running the competition so smoothly and efficiently. Congratulations to the winners, photographed below with our President.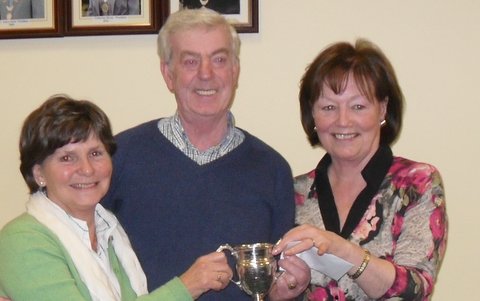 1
st
Place: Maria Concannon & Carol Madden (Malahide)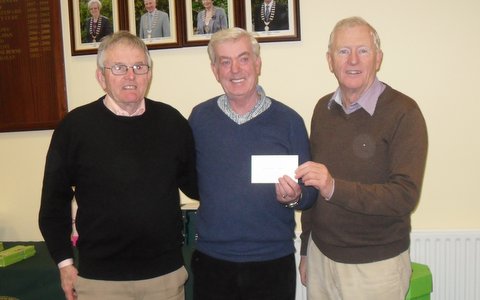 2
nd
Place: Ciaran Mulhall & Tony Stafford (Malahide)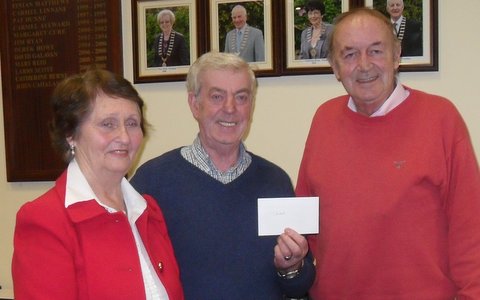 3
rd
Place: Kitty & Michael Kelly (Malahide)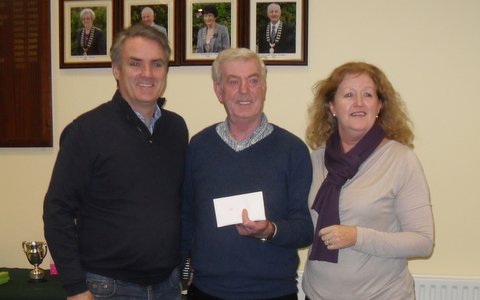 4
th
Place: Donat & Anne O'Brien (Malahide)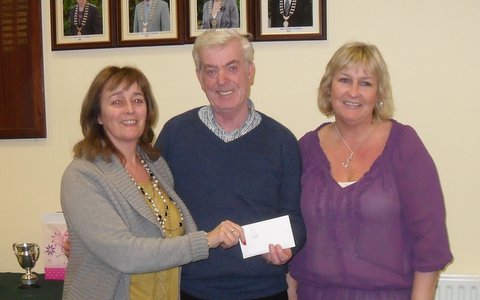 5
th
Place: Linda Garland & Patricia Brennan (Malahide)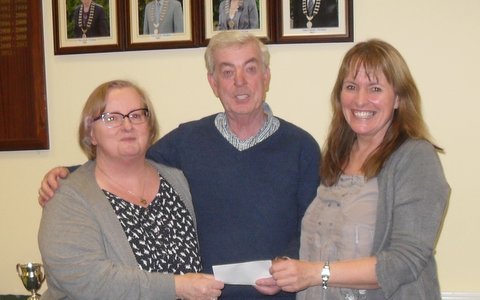 6
th
Place: Mary Deane & Jeanne Colvin (Malahide)


Thursday 8
th
January, 2015.


It is with regret that we report the death of Nora Foley. Nora was secretary of DNR for a number of years during the early 90s. To see funeral arrangements, click
here
.