Thursday 11
th
December, 2014.


Congratulations to all the Regional Pairs winners and runners up.

Pat Kelly & David Terry on again winning the Marie Cummins Trophy
Veronica Miller & Marie Dalton on winning the Moran Cup once again
Sheena Duffy & Finola McDonald on winning the Dillon Cup.


Kay McDonald

Sunday 30
th
November 2014.


The
attached eulogy
is published in memory of the late Paddy Mac Hugh.

John Treanor

Thursday 27
th
November, 2014


Congratulations once again to Declan & Maureen Keane who won the Intermediate A Pairs in the Kilkenny Congress

Kay McDonald


Thursday 20
th
November, 2104

Congratulations to Declan & Maureen Keane, Joanne Lyons & Anna O'Donnell who achieved 1st place in A Teams Competition in the Dundalk Congress.
Kay McDonald


Monday 20
th
October, 2014.


Congratulations to our DNR members; Derek Howe, Mary Reid, Fran Ronan & Sean Whelan. They won the Area Master Prize in the 2014 Coen (National Mixed Teams) Trophy yesterday.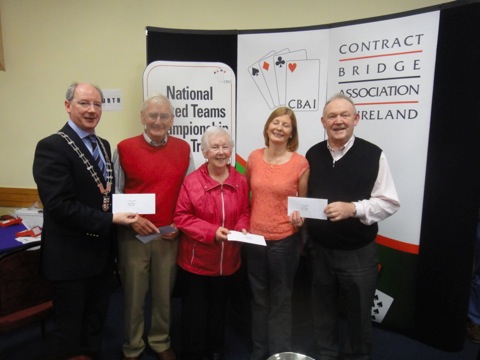 They are pictured here with our National President Mr. Fearghal O'Boyle.


Kay McDonald

Monday 6
th
October, 2014.


Drogheda 2014 Congress
As usual Dublin North Region was very well represented in Drogheda at the weekend. Players were complimentary about the organisation of the event.

Warmest congratulations to Congress Pairs winners – Fiona Brown (World and European Ladies Bridge champion 2012), who was partnered by Eamon Galligan.

Congratulations to Grand Prix winners; Maureen & Declan Keane. Maureen and Declan were third in the Intermediate A Pairs and second in the Intermediate Teams playing with Collette & Martin Walsh.

Congratulations also to
Joanne Lyons and Anna O'Donnell who finished fifth in the Intermediate A Pairs.


Congratulations to Aidan Synnott, Tom Heary, Richard Trehy & Evelyn O'Donnell who won the best Confined Teams Prize in the Congress Teams.

Congratulations to Frances Ronan & Sean Whelan who were in 2nd place in the Confined Pairs Competition.

Kay McDonald
Wednesday 24
th
September, 2014


At the inaugural meeting of the current DNR committee, our new president, Michael O'Keefe expressed an aspiration to improve communications between the committee and the clubs in the region. It was agreed that to that end, DNR would publish a monthly newsletter. Martin McMahon, our president elect, agreed to produce this document and the first newsletter was emailed to all club secretaries yesterday. The newsletter is also be available to
view online or download
on this website. Congratulations to Martin on the production of a very professional looking inaugural newsletter.


Aidan Synnott

Monday 22
nd
September, 2014


Warm congratulations and best wishes to Mary Kelly Rogers on her appointment to the "Women Committee" of the European Bridge League.
I trust the skills she acquired in her Presidential posts in Dublin North Region, CBAI & IBU, will stand to her on this committee.


Kay McDonald


Thursday 10
th
July, 2014

Best wishes to Fearghal O'Boyle, who was inaugurated as President of the C.B.A.I. for the year 2014/2015 on Saturday 5th July at the Southern Hotel, Sligo. In brief, Fearghal's message to all bridge players is "improve your game".
We wish to join with other Regions in offering our Congratulations to Paul Porteous on being elected to the European Bridge League Executive Committee. This personal honour highlights his devotion and dedication to Bridge throughout Ireland. Thank you Paul.
Kay McDonald

Monday 9
th
June, 2014


The AGM of Dublin North Region took place last Friday 6th June .


Thursday 5
th
June, 2014

Congratulations to the following members who have been recently upgraded as a result of National Points awarded since 1/9/2013.


Regional Master:

David Synnott


Area Masters:

Louise Byrne
Catherine Byrne
Tom Cassidy
Owen Cummins
Mairead Daly
Adrienne Delaney
Patricia Evers
Derek Howe
Arthur McGrail


Intermediate A1:

Brendan Doyle
Catherine Leehane
Mary Tierney


Intermediate B1:

Mary McElhinney



Monday 19
th
May, 2104


The Dublin North Region Kirwan's League concluded on Saturday 17
th
May with the usual final matches and a well attended Supper and bridge game.

Séamus Griffin, General Manager, Kirwans, kindly presented the trophies as follows:


Masters – Malahide – Paddy English's Team
Intermediate A – Sutton – Christine Watters' Team
Intermediate B – Dublin Teachers – Joe O'Dwyer's Team
Novices – Glasnevin – Joan White's Team.

Click
here
for results

Wednesday 30
th
March, 2014
Dublin North Region Novice Teams Championship.

On Saturday 26th April 10 Novice teams competed for the Paddy English Trophy. The competition was held in Malahide Regional Bridge Club. Five clubs from the region were represented - St.Anthony's, Malahide, Glasnevin, Swords and Lusk.

It was a most enjoyable occasion There was a great buzz of excitement coupled with a strong competitive spirit. Even more impressive was the friendly atmosphere in which it was conducted under the watchful eye of tournament director Anne Doyle.

The winners of the cup (presented by Paddy English himself) was the Glasnevin team captained by Joan White. The runners up were the Malahide Regional team with Brian Kane as captain. St Anthony's under captain Anne Greene came 3rd and in 4th place Gerry Hughes team also from Malahide Regional.

It was a great day's bridge. Congratulations to all the players who took part and contributed to its success. Well done. To view photos,
click here
.


Mary Reid



Tuesday 22
nd
March, 2014


On Saturday 12th April the Dublin North Region of the CBAI Hosted a unique Bridge event in St. Gabriels Community centre Clontarf as part of the numerous sports, arts and cultural activities being held during Easter in Commemoration of the 1014 Battle of Clontarf. The Contest consisted of 6 Clontarf Bridge clubs, representing Brian Boru, battling against 6 Dublin North Region Bridge clubs representing the Vikings in a Teams of four, Pairs, and Individual,each club fielding 8 players each; 96 players in all.

The Day began with a local Historian giving his version of the history leading up to and during the 1014 battle of Clontarf. Also present during the bridge, two costumed Vikings mingled all adding to the Atmosphere of the occasion. The final result of the Battle was Victory to the Brian Boru's with a total of 38 points ,Vikings scoring 34 points.Prizes were awarded to Raheny BC who contributed most points to the winning side..Prizes were also awarded to Malahide BC being the main contributors of points to the runner ups.

Dublin North Region President Mary Reid thanked the various sponsors including Mr Brendan Flynn of the Church Restaurant /Bar for the prizes of Meal vouchers, the Viking Splash Co. for the Viking trips and Paul Porteous of the CBAI for the supply of all the boards complete with curtain cards and the bidding boxes. Mary also thanked the organising committee for all their hard work in preparing for the Event. All proceeds are being donated to Charity. An enjoyable day was had by all.
Click here
for photos.


Michael O'Keefe

Saturday 22
nd
March, 2014


Bridge Teachers in the Dublin North Region introduced their latest batch of beginners to open bridge at this year's "Gathering" in Malahide on 22
nd
March. 24 tables of players competed in a very enjoyable and stress-free day. The Committee asks Clubs in the Region to make every effort to accommodate & to extend a warm welcome to all new players.

Kay McDonald


Saturday 15
th
March, 2014

The Dublin North Region was well represented at the Bankers Congress.

Special Congratulations to the victorious
Intermediate Team
:
Lilian Foley, Rosemary Matthews, Maria Cronin, Nora Potter

Session winners: Ann Hooper, Nuala Fitzpatrick, Trudy Chambers, Bernie Wall.


Intermediate A Pairs

2
nd
Catherine Quinn & Nora Wayte.
4
th
Nuala Fitzpatrick & Ann Hooper
5
th
Martin Walsh & Collette Walsh
7
th
Joyce Hammond & Ria Malone


Monday 3rd March, 2014


Congratulations to the following on their results in the CBAI Simultaneous Paris.

Monday 3
rd
Feb:
John O'Brien & Susan Leech, Howth Bridge Club – 9
th

Martin & Julie Flaherty, Baldoyle Bridge Club – Best Intermediate A1

Tuesday 4
th
Feb:
Eileen O'Sullivan & Peggy Harrison, Victory Bridge Club – 8
th


Wednesday 5
th
Feb:
Norma Madden & Bernadette Sweeney, Glasnevin Bridge Club, 3
rd

Richard Trehy & Tom Heary, Glasnevin Bridge Club, 9
th


Thursday 6
th
Feb:
5
th
: Antionette O'Connor & Breda Cashin, Iona
6
th
: Eilish Dempsey & Angela McKeon, Iona
7
th
: Charlie Fallon & Jackie Ryan, Mid Sutton


Kay McDonald
Monday 27
th
January, 2014


The Region was well represented in the National Teams and Pairs events in Westmanstown on Saturday & Sunday last.

Geraldine Trophy - Congratulations to David Synnott who's Team finished 4
th
and Best Regional Masters. Congratulations also to Billy Ronan & Tom Gilligan whose team were 5
th
.

Revington Cup - Congratulations to Con Doherty & Paddy Gallagher on achieving 5
th
place overall and Best Regional Masters.

McMenamin Cup – Congratulations to Best A Team: Lilian Foley, Maria Cronin, Rosemarie Matthews & Mary Tierney. Congratulations to Mary Reid, whose Team won a Session.

Jackson Cup - Congratulations to Catherine Quinn and Nora Waite who were Best A Pair.

Kay McDonald