26/11/2016


Congratulations to the following players from the Dublin North Region who did well in the recent IBU simultaneous pairs:

Wednesday 9
th
November

2
nd
place: Tom Cassidy & Peter Tierney. Malahide Regional Bridge Club
6
th
place: Margaret Mason & Juergen Schweiss. Glasnevin Bridge Club
8
th
place: Olivia & Tommy Bree. Glasnevin Bridge Club
10
th
place: David Terry & Brendan Cahill. Malahide Regional Bridge Club.

There are ten supplementary prizes to the pairs with the next highest percentage score over the four events. Moira Lynam & Georgina Forrestal of Victory Bridge Club got a prize in this category.

20/8/2016
KIRWAN LEAGUE (NOVICES)

Congratulations to St Anthony's Bridge Club, who have won the Kirwan League. It was a pleasure to present them with their trophy in front of their own club. Commiserations to Lusk Bridge Club who ran them close to the very end.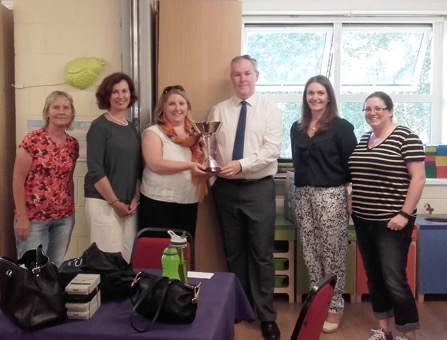 Lorraine Maxwell, Deirdre Diamond, Aine Gleeson, Martin McMahon, Ann Greene, Ciara Finucane and Joyce Brereton (absent).



27/6/2016


Dublin North Region is saddened to learn of the death of Peg Byrne, on Sunday 26th June. Peg had recently been unwell. She was very active in C.R.C., Clontarf, and Foxhall bridge clubs.
She played on the Kirwan League Team 2015 - 2016 for Clontarf Bridge Club.
She, twice, officiated as President of Dublin North Region;
2004 - 2005 - Nominated by Clontarf B.C.
2005 - 2006 - Nominated by Bayside B.C.
Click
here
for funeral arrangements.



28/4/2016
DNR Committee is saddened to receive news of the death of Maurice Quinn. We extend our deepest condolences to his family. He contributed much to Bridge in the Region, particularly the Masters League, which he very kindly managed for many years.


25/4/2016



Well done to all the following Dublin North Region players for recent successes in National events:

National Teams, Tierney Trophy –
3
rd
: Mary Deane, Jeanne Colvin, Linda Garland & Patricia Brennan

Cooper Cup –
2
nd
:
Derek Howe, John Muldowney, Mary Kavanagh & Pat Dunne
National Pairs, Laird Cup –
3
rd
: Christine Watters & Kay McDonald
Jackson Cup –

Best Intermediate: Nora Wayte & Catherine Quinn

Revington Cup –
Best MR: Tom Gilligan & Bryan Wallace

30/1/2016


DNR Teams, 30
th
Jan, PRIZE WINNERS
MASTERS – 7 Teams
1
st
Dave Terry, Conor O'Hara, Billy Ronan, John Murray
2
nd
Mary Kelly Rogers, Tom Gilligan, Bryan Wallace, Eileen McCann
Session: Davida Pendleton, Jean Newell, Mary Conlon, Charlie O'Hanlon
Inter A– 12 Teams
1
st
Lilian Foley, Rosemary Matthews, Maria Cronin, Nora Potter
2
nd
Ann Hooper, Kay O'Brien, Michael Goode, Stephanie Goode
3
rd
Liz Chambers, Janet Quinn, Irene Ellis., Patricia Evers
Session: Mairin MacDevitt, Emily Rogers, Rona Booth, Linda Gallagher
Inter B / Novice – 7 Teams
1
st
Mary Deane, Jeanne Colvin, Linda Garland, Patricia Brennan
2
nd
Ann Sheeran O'Brien, Donat O'Brien, Gerry Hughes, Bernie Dunne
Session: Carmel Seery, Breda Murphy, Wendy Shevlin, Sean Maguire